I bokhyllan hemma hittade jag en ärvd gammal bok [Riehl 1861 &1862], Musikalische Charakterköpfe av Wilhelm Heinrich Riehl, och googlade sedan efter data om verket och eventuella digitala upplagor som inte är i tysk frakturstil. Google Books hade något exemplar scannat, men Project Gutenberg saknade denna skrift i sitt arkiv med klartextversioner av Riehls verk. Verket tycks enligt Sanna Pedersons beskrivning av det i en RILM-artikel [Pederson 2009] kunna vara relevant i en diskussion kring New Musicology, kritisk teori, musiksociologi och Cultural Studies, då det eventuellt kan beskrivas som ett tidigt försök att (utifrån en konservativ och nationalistisk ideologi) utforma en teori som betraktar musiken i ett samhälle som beroende av samhällets struktur och maktförhållanden:
Looking at the course of [Riehls] career as a whole, one sees that he used his stance as an advocate of the people and their simple way of life to work his way up into a powerful position in academia and the government. From his position as an (appointed) professor, he criticized the professionalization and specialization of academic disciplines even as he helped establish new disciplines, such as folklore studies.
While this stance was effective with some, threatened academics tried to reject him as an outsider without credentials. His arguments for music as culture were made outside of the institutions of music itself. He did not write about music from the position of a composer or even as a contributor to a music journal. Instead he bypassed the gatekeepers and published popular criticism, fiction, and went on lecture tours.
Although they were motivated by the need to guard their territory, Riehl's critics brought up legitimate problems with his approach. They disputed his judging composers on the basis of their cultural values rather than their music. They also raised questions as to the value of studying mediocre composers. It is interesting to note, however, that no one questioned the goal of putting cultural studies in the service of the nation. This is one major point of difference between early cultural studies and the versions we have today. Nationalism, while often still a powerful force, is no longer the self-evident purpose.
(Pederson 2009)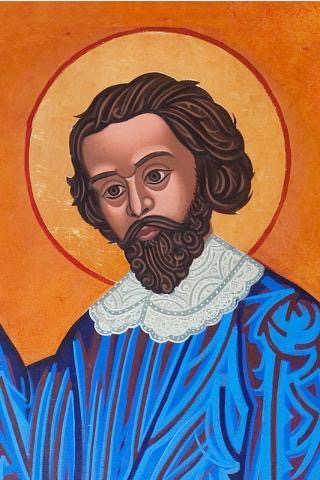 Kompositören William Byrd (1539–1623) — som aldrig helgonförklarades (men ändå avbildats i den amerikanska moderna ikonen på [ https://www.saintgregorys.org/the-dancing-saints.html ] som om han var en sankt William Byrd med gloria och allt) men däremot blev känd för bland mycket annat en tonsättning av (den sedermera avrättade och helgonförklarade) Henry Walpoles fromma dikt "Why Do I Use My Paper, Ink and Pen?" om berömda (men aldrig vid namn nämnda) engelska martyrer, vilken om jag förstått rätt författades med anledning av avrättningen av jesuiten Edmund Campion (som möjligen var barndomsvän till Byrd), denne William Byrd, kompositören, hade på sin tid monopol ("patent") på att trycka, importera och sälja noter och notpapper i England. Enligt vad forskningen konstaterat [Harley 2010; se även artikel i Grove] var detta dock troligen inte så lukrativt, för marknaden för noter och tryckt musik (särskilt för hemmamusicerande) var mycket liten, och linjerade papper för musiknotering kunde den som behövde åstadkomma själv med tomma ark, bläck, penna och linjal om man inte hade råd eller tillfälle att köpa förtryckta manuskripthäften eller ark. Byrd ägde dock, i princip (även om det kanske inte var så i en monopolkapitalistisk verklighet), makten över det som i en kulturmaterialistisk begreppsvärld kan kallas produktionsmedlen, för all nyskriven noterad musik som producerades i form av tryckta noter i riket. Byrd var en av drottning Elisabeth den första gynnad person, alldeles i synnerhet så som han var känd för att vara katolik, vilket borde ha varit en nästan omöjlig religiös identitet för någon artist, hantverkare, köpman eller gentleman som inte valt att dra sig undan till en plats i någon avkrok långt från London för att överleva reformationstiden i England [Horner 1998]. För Byrd och hans samtida var nottryck rimligen varken en betydande inkomstkälla eller ett idealiserat medium, formen för själva konstarten, det musikaliska objektet, utan mera en socioekonomiskt motiverad praktik. Noterna var, lite slängigt formulerat, antagligen en sorts dyrbara reklamkit för att visa på musikskaparnas talanger som anställningsbara musiker. De producerades för att spridas till möjliga mecenater, i vars familje- och vänkretsar verken, sångerna, instrumentalstyckena, materialiserades ur stämböckerna som en form av socialt liv.
Why do I use these pages, fonts and keys,
And browse the web to counsel what to say;
Read monographs presenting some old piece?
I speak of tunes whose notes cannot decay.
A jazz man's horn were fitter for to sound
Their glorious grooves, with bass and drums the ground.

Our store of songs and rhythms is an old well,
A waterhole the genius cult down-weighed
But scholars of these hidden chords excel,
Through patient deeds, progressing through decades;
While Herr Adorno's arid wittiness does bore,
With many more such dry Marxists of yore.

Through patience rare, from the anonymous mind,
By fame unknown perpetual shall endure 
Examples of what we may truly find:
Of human lives and times an image pure.
That we in their real virtues may rejoice
Turn we to Byrd to guide us with his noise.
[texten ursprungligen från 2014; reviderad i oktober 2022 och februari 2023]